A rich custard pie, made with buttermilk.
From my childhood. Grandmother made the best pies.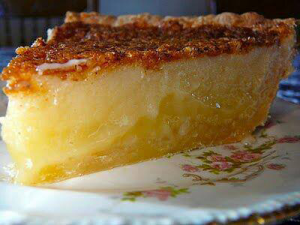 So there's Chess pie aka buttermilk pie, and Lemon chess pie.
for simple chess or buttermilk pie, use:
1 ½ cups white sugar
2 tablespoons all-purpose flour
4 eggs
1 cup buttermilk
1/2 cup melted butter
1 teaspoon vanilla extract
1 (9 inch) unbaked pie crust
Mix together sugar and flour. Separately mix together eggs and buttermilk. Combine dry with wet ingredients – blend. Add melted butter and vanilla. Mix well. Pour into pie crust. Cook 40-60 min in 350º oven till center is firm.
for Lemon chess pie, add 1 Tablespoon lemon juice and 1 Tablespoon lemon zest with the melted butter and vanilla.
Historical note: Chess pie recipes often used cornmeal instead of or in addition to flour. It would give a different texture to the pie. And some recipes used vinegar with milk, which would essentially clabber the milk, a substitution for buttermilk.