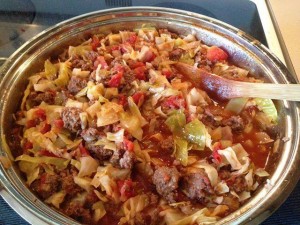 Unstuffed cabbage rolls.
1 tablespoon olive oil
1 1/2 to 2 pounds lean ground beef
1 large onion, chopped
1 clove garlic, minced
1 small cabbage, chopped
2 cans (14.5 ounces each) diced tomatoes
1 can (8 ounces) tomato sauce
1 tablespoon cider vinegar or wine vinegar
pepper and salt to taste
Heat olive oil over medium heat in a large skillet. Add the ground beef and onion and cook, stirring, until ground beef is no longer pink and onion is tender. Add the garlic and continue cooking for 1 minute. Add the chopped cabbage, tomatoes, tomato sauce, vinegar, cinnamon, nutmeg, pepper, and salt. Bring to a boil. Cover and simmer for 20 to 30 minutes, or until cabbage is tender.
Note: Try the no salt added tomatoes and sauce to reduce sodium. It works fine.